learn more about the course and the instructors
What we study
Geography isn't just memorizing where places are on a map, although sometimes that's important. This course is a chance to explore the physical and cultural aspects of our world with a focus on our hometown, Chicago. We will...
...ask "Where is it?" and "Why is it there?" over and over again
...travel out into the city
...create maps
...take photographs
...collect artifacts
...read and analyze everything we can get our hands on
...think, talk, and act like geographers
...go outside of our comfort zone
...engage in respectful and productive dialogue with peers
...teach others what we have learned through project exhibitions
...make mistakes, reflect on our progress, and keep improving our work


---
Shannon Haberkorn earned her BA in the Teaching of History with an endorsement in English as a Second Language from the University of Illinois at Chicago. She continues her professional development through opportunities like the Educational Leadership Academy at High Tech High, National Endowment for the Humanities Institute on the Gilded Age and Progressive Era, and Code Academy. As a lifelong resident of Chicago, Shannon is passionate about using Chicago as the basis for her classes and strives to connect students with their communities. Her other passions include travel, language acquisition, sustainability, reading, exploring new neighborhoods, and community gardens.

Also joining us in 7th period is Josh Torres. Josh has a BA in Criminal Justice from Aurora University and an MAT in Special Education from National Louis University. His passions include music and taking selfies.

Powered by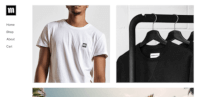 Create your own unique website with customizable templates.