Podcasts (Sept. - Nov. 2015) (https://soundcloud.com/shannon-haberkorn)
Students will ask deep questions about their city and interact with experts to find answers. Along the way, they will learn about the five themes of Geography (location, place, region, movement, human-environment interaction), and how essentially anything they want to study can be related to Geography in some way. Students will work in pairs to write a script and use it to record a podcast, similar to NPR Marketplace's "I've Always Wondered" segment. The goal is to have actual radio hosts listen to our podcasts, judge them, and possibly air them on the radio!
Essential Questions
*What makes our city unique?
*How do I ask a deep question?
*What makes a podcast engaging?
*In addition to these questions, each student pair will pursue their own deep question.
Objectives:
I can…
*ask deep questions that go beyond yes or no answers
*identify experts
*communicate in a professional manner both in person and remotely
*write a script
*record a podcast with multiple tracks
*improve my work through multiple rounds of critique
Final Products
Typed script

Podcast recording

Interview with an expert

Community Garden (May - June 2015)
Students grow and harvest a late spring crop! You will prepare the East community plot for planting, start green beans from seeds, and complete daily maintenance of the plot including weeding and watering. Students will also prep the West area for flower planting, and then plant the flowers and maintain them. Optional events outside of school hours include the Harvest party and the native prairie planting volunteer event.
Globalized: The Teenage Experience (Jan. - May 2015)
World Geography, Environmental Science, Information Technology
You will develop an understanding of what it's like to be a teenager in countries around the world, with an emphasis on empathy and the effects of globalization. You will work with a partner to find and connect with a teenager abroad, and then gather information to write a narrative of a day in the life of that teenager. Your work will be displayed on a live website and hard copies of the teenager profiles will permanently line the hall outside our classroom. We will definitely go outside of our comfort zones on this project, but the results will be amazing!
Essential Questions
*Is globalization making us all the same?
*What is life like for teenagers around the world?
*Do our online connections promote or discourage empathy?
Objectives:
I can…
-empathize with others.
-define globalization and identify its effects.
-differentiate between folk and popular culture.
-compare and contrast my culture with others.
-ask culturally relevant and appropriate questions.
-work with a partner to create beautiful work that we're both proud of.
-read aloud for an audience.
-be creative when confronted with challenges.
-write a narrative piece in 3rd person.
-provide and accept critique to improve my work.
-reflect on my work and monitor my own progress.
Final Products
Web page that contains:

teenager's biographic & country information
photo of teen, plus at least one more photo of life in his or her country
video interaction with teen OR music that the teen listens to
written narrative (roughly 5 paragraphs long) that describes a day in the life of that teen and uses information from each of the five Big Topics (see last page), written in 3rd person (ie he or she)

Proof of interaction with the teen (e-mails, recorded videos, etc.)
Written reflection (more details to follow)
Hard copy of narrative & photo to hang in the hallway
Required Reading (all students):
Born for Love
by Maia Szalavitz and Bruce D. Perry
Book Club Project Overview (Oct. - Dec. 2014)
You will explore migration and immigration by reading novels that dive deep into the lives of fictional characters and real people and discuss their journeys. Our book clubs are designed to facilitate discussion and deeper thinking. You will learn which push and pull factors influence why people move. You will develop writing, reading, and discussion skills that focus on empathy. We will also look at book reviews and learn how to write persuasively. Our reviews will be displayed in public libraries and/or book stores for customers to see.
Essential Questions
Why do people move?
Why are some places more populated than others?
Is the world overpopulated?
Objectives
Define overpopulation, migration and immigration.
Identify push/pull factors that influence why people move.
Analyze overpopulation in developed and developing countries using population pyramids.
Create a book review that discusses migration and how it affects the reader.

Final Product
A typed book review that will be displayed in a public library or book store.
Community Project - 2014/2015
Overview
Students will explore both the community surrounding ChiTech and the community in which they reside to observe what they hear, see, smell, and feel. They will use these observations to develop an understanding of what communities are made of, both good and bad. Then, students will explore others' perceptions of those communities by engaging in Socratic seminars and looking at the media's portrayal. Finally, students will research and explore the positive characteristics of their communities and compile written descriptions and visuals to show what should be celebrated in those areas. Students will develop skills related to team work, reading and creating maps, identifying and developing arguments, annotating and citing evidence from text, and engaging in positive and productive discourse.
Essential Questions
1. What is community?
2. How does a community acquire or develop its identity?
3. What is celebrated in a community and what is hidden?
Objectives
Identify the five components of a map and use them to create a map of your own neighborhood.

Explore the five community categories: demographics, culture, commerce, green spaces, and transportation and use your findings to write descriptions of your community with a positive tone.
Collect data from local media outlets and use the data to explain how your neighborhood is portrayed. Differentiate between positive, negative, and neutral tones.

Make a judgement of your neighborhood based on your perspective and others' by writing an opinion piece.
Defend your map and written components to an audience during the exhibition.
Challenge: Conduct an interview to assess how your community has changed over time.

Final Products
A physical representation of your neighborhood in the form of a map.

Written descriptions of the five community categories
Written description of the media's portrayal of your neighborhood, using data, and an opinion piece on your perspective of your neighborhood's identity.

Check out our mini project from 2013/2014
"What's Wrong in Chicago?"
Thanks to Tyler Wilson for posting his classmates' projects on his website!
Powered by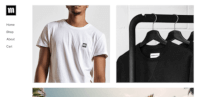 Create your own unique website with customizable templates.